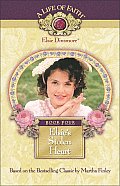 Elsie Dinsmore
Millie Keith
Violet Travilla
Kathleen McKenzie
These are the BEST books you'll ever read!
These are really good Christian books
on the lives of 4 fictional girls: Elsie Dinsmore Travilla, who lives in the pre-Civil War South, Millie Kieth, who lives on the Indiana frontier, Violet Travilla,(Elsie's daughter)who was born right after the Civil War, Laylie Colbert, a Christian, runaway slave who was introduced in the Millie books, and Kathleen McKenzie:the McKenzie family lives a comfortable life in Fort Wayne, Ind., during the 1920s, until the Great Depression hits. There are dolls, clothes, and books all about the girls. I own all the books on every girl except Kathleen's books and Violet's 3rd book. I would give these books 5 stars, because they are all about faith, family, and friends.