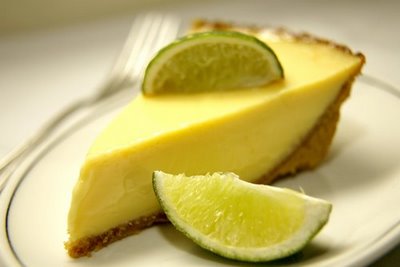 Hello, dahlings! Would you like to hear the world's easiest and yummiest recipe ever? You know you would. :)
Ingredients
5 egg yolks(you know, separate the yolks from the whites)
1 (14 oz.) can of sweetened condensed milk
1/2 cup key lime juice (don't worry about the snazzy kind in the big shiny bottle. Great Value and Food Club brands are okay.)
1 (9 inch) prepared graham cracker crust.
Steps
Preheat your oven to 375 degrees F.
Combine the yolks, sweet milk, and lime juice. Mix really, really well. Pour into the unbaked pie crust.
Bake for 15 minutes. Allow to cool, and garnish with lime or whipped cream if desired.
Well? Wasn't that easy?